Detailed introduction
Name:Chlormequat Chloride
Another name:Cycocel,Choline Chloride,CCC,
Chemical name:2-chloroethyl trimethyl ammonium chloride
CAS No:999-81-5
EINECS No: 213-666-4
Physicochemical property:pure Chlormequat is white crystals,fishy odour,soluble with lower alcohols.difficult to dissolve in ether.poorly soluble in hydrocarbon organic solvents.raw powder mabsorbs moisture easily.in the 238-242℃ decomposition, easy soluble in water,decompose meet alkalim aqueous solution is stable.
Toxicity:Acoording to toxicity grading standards of China,chlormequat is a low-toxic plant growth regulator,acute oral toxicity of raw powder for male rats is LD50 883mg/Kg, acute dermal toxicity of raw powder for male rats is LD50 4000mg/Kg, Rats were fed 1000mg/kg for 2 years without adverse effects.
Classification:Plant Growth Retardants
Main Preparations:
1) Chlormequat Chloride 98%TC ,Registration Certificate No.: PD20098407
2) Chlormequat Chloride 80%SP ,Registration Certificate No.: PD20092416
3) Chlormequat Chloride 50%SL ,Registration Certificate No.: PD86123-4
4) Chlormequat 750G/L SL,720G/L SL
Other preparations can be customized, but quantity should be at least 1000kg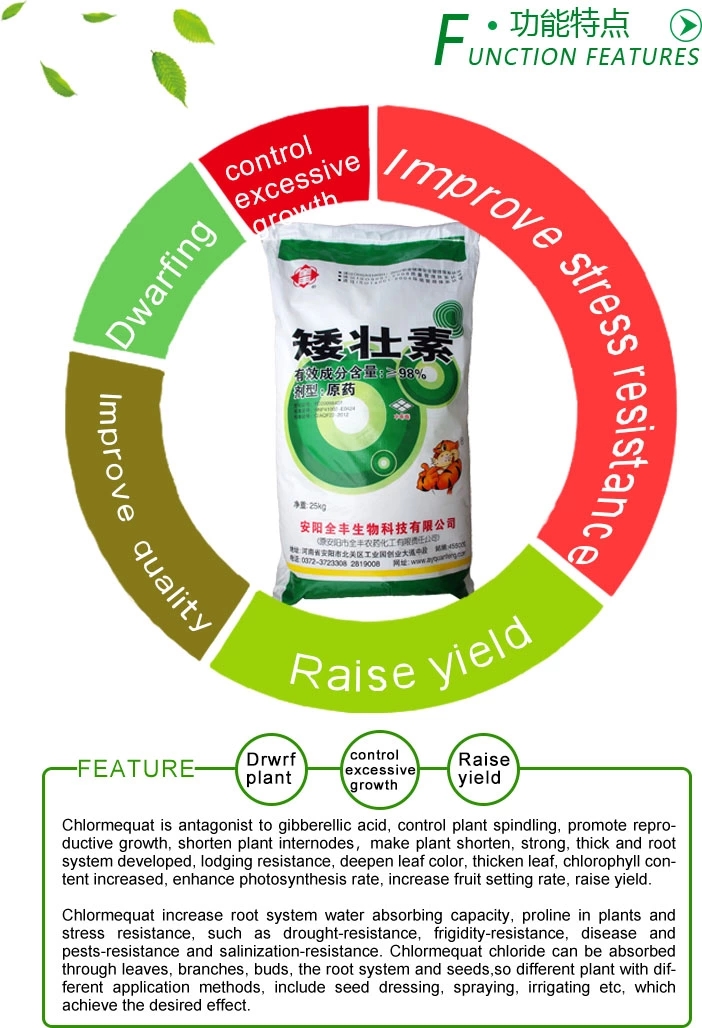 Notes:

1 Chlormequat is high-activity plant growth regulator, poor fertility, don't use chlormequat if growth is not strong.
2 Follow the direction to avoid harm.
3 Do not mix with alkaline substances
4 Pesticide application should be after 4 pm, it is advisable to moisten the leaves without flowing down, which can increase leaf absorption time and will not be wasted,
5 Harmful long-term contact with skin, wash immediately after application. Accidental ingestion can cause poisoning, the sympotoms are dizziness, fatigue, numbness of lips and limbs, myosis, salivation, nausea and vomiting, Severe cases of convulsions and coma, serious could be deadly. Drug addicts can be treated with general first and measures, those with obvious acrescarinic symptoms may be treated with atropine as appropriate, but excess should be prevented.
Packing:
25kg woven bag; 25kg plastic drum; 200L plastic drum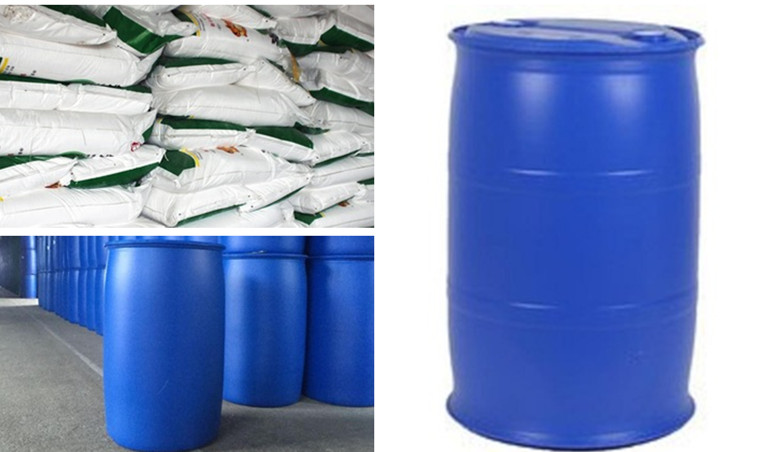 HOT SALE